On this page you will find the latest information about our proposals to extend and reorder the church.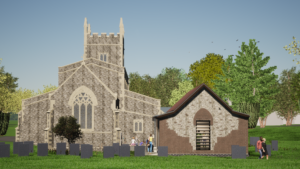 Our plans for an extension on the North East corner of our church were approved by Dacorum Borough Council on 10th March. You can read the full report on our application here.
Dacorum planning recommendation March 2022
Our current facilities are inadequate for the 21st century and this extension will provide a modern and comfortable space which will benefit both the church and the community.
We are currently working on plans to reorder the inside of the church to create an open, flexible space suitable for modern church worship and for church and community events including concerts, fundraisers and festivals.  These plans will be submitted to the Diocese of St Albans and various conservation bodies for consultation.
We have a precious heritage asset which we are committed to maintaining; the best way to achieve this is through a dedicated and growing church congregation and increased community use.
Here is a brochure prepared in 2021 describing the scheme and what it will achieve:
Extension project brochure Oct 2021
For more detailed information on our application you will find below:
Colour graphics showing how the new extension may look (some details of colour and materials may change)
Architect's drawings (2D) of the proposed extension
1248_PP 022A Proposed N Elevation
1248_PP 023A Proposed East Elevation
1248_PP 024A Proposed S Elevation
1248_PP 025A Proposed West Elevation
Architect's drawings showing some possible alternative layouts of the interior of the church
1248_PP 026 Proposed -Layout Sunday service
1248_PP 029 Potential layout -antiphonal_interactive drama etc
1248_PP 028 Proposed Layout_festivals
Photographs of churches which have movable rather than fixed seating
Accompanying documents including the Statement of Need, Design and Access Statement, Heritage Statement and Pew report by Dr Charles Tracy
1248_Statement of need Aug 2021 FInal
1248_DAS-Extension to the Church of St Lawrence Bovingdon_final